ABN Australia participates in Australia UAE Business Council webinar
The Australia UAE Business Council hosted an online webinar on 12th September 'Doing Business in Australia' to provide Emirati businesses looking to establish or expand their operations in Australia with an understanding of the Australian business environment.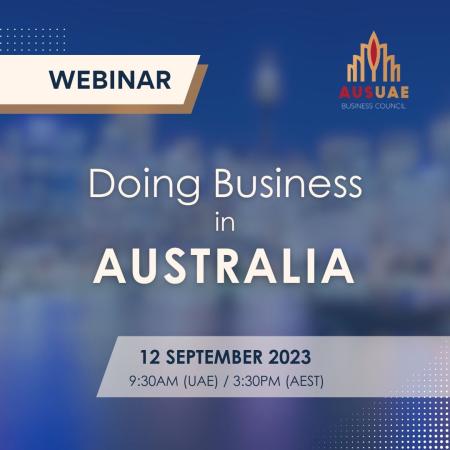 The ABN Australia team were invited to present on the webinar, providing an overview of the Australian market, highlighting the key opportunities and offering insights into the regulatory environment, as well as market entry options.
David Garry, Chairman of ABN Australia said: "It was a pleasure to deliver a presentation to Emirati businesses, providing them with valuable insights into doing business in Australia, along with our experience on how to navigate the challenges of setting up a new business in a foreign jurisdiction. We've already received positive feedback from the webinar, and have made new connections from this."
A recording of the webinar can be accessed here: https://ausuaebc.com/webinar-doing-business-in-australia
ABN Australia is a member of the Australia UAE Business Council, which has the aim of strengthening bilateral trade and investment and expanding opportunities for Australian and Emirati businesses.
ABN Australia offers a comprehensive range of solutions for Emirati and global businesses entering the Australian market, including:
Business establishment
Resident Director and address services
Corporate secretarial
Tax and accounting
Bookkeeping and payroll
Employer of Record
As members of the Australia UAE Business Council, ABN Australia is keen to work with Emirati businesses that are considering entering the Australian market, as well as partner with businesses or organisations that work with Emirati clients or contacts seeking to expand their business presence into Australia.
Contact Richard Chatten-Hague, Regional Commercial Director at connect@abnaustralia.com.au for more information.
Published: 19th September 2023