Do you know about the upcoming law changes to small business and consumer contracts?
From 9th November 2023, new Unfair Contract Term laws will be introduced affecting all small business and consumer contracts, including heavy penalties of up to $50 million for businesses that don't comply.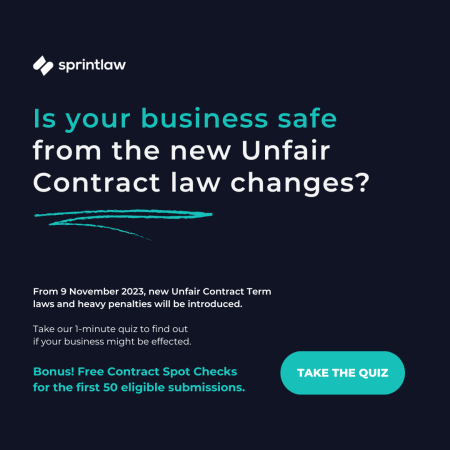 Not sure what this means for you? Our friends at Sprintlaw have got you covered with their one-minute quiz to check if you're at risk, and see if you're eligible for a 'Free Contract Spot Check', where their legal experts will look for any unfair terms to help you stay compliant.
Plus, you can access their plain English guide to learn what the changes are and how to avoid the hefty fines.
Get started today!
Quiz & Free Spot Check: https://sprintlaw.com.au/uct-abnaustralia/
Guide: https://sprintlaw.com.au/legal-tips/
Published: 27th September 2023