Company Formation Services
Establish a limited liability company in Australia (Pty Ltd)
ABN Australia has significant experience in managing the needs of international businesses looking to establish a company or business presence in Australia - ranging from large international listed businesses right through to smaller enterprises looking to set up a regional sales or administrative office.
There are a few special requirements that non-residents need to navigate, however generally speaking we can have your proprietary limited (Pty Ltd) company incorporated within one business day - subject to meeting Australia's local compliance requirements. We can also provide a comprehensive range of related services including tax registrations, resident director, registered office address, company compliance, tax and accounting services tailored to your specific requirements and business objectives. We pride ourselves on making things efficient, affordable and easy to understand and we look forward to supporting your business in any way we can.
---
Order Forms and Information Guides
We recommend getting in touch with us in the first instance to discuss your requirements. We can then provide an overview of our services and our schedule of fees for you to consider. You can contact us on contact@abnaustralia.com.au or by using the enquiry button here below.
---
Put your trust in the industry professionals
Starting a company is a big deal - something you or your client might only do once in your life. Don't risk getting it wrong elsewhere - put your trust in the industry professionals.
We pride ourselves on great and informed customer service
Professional support available via chat, phone or email to discuss any question or concern you may have
We ensure complete confidentiality and respect with your company information
We have been official ASIC Registered Agents for over 40 years, and have incorporated more than 150,000 companies during that time
We are trusted by hundreds of professional accounting firms across Australia, as well as hundreds of international clients every year
Our unique PDF order forms make setting up a proprietary limited company in Australia fast and easy
ACN, company constitution, + all quality company documents delivered within 1 business day
We offer a comprehensive range of related services ensuring we can be a 'one-stop-shop' for your business
A commitment to amazing customer service verified with 5-star reviews through Trustpilot
Lastly, we love working with different clients from around the world any hearing their stories!
---
What's included
When you register a proprietary limited company through us you receive the following comprehensive company documentation:
A Certificate of Incorporation from ASIC
Company ACN (Australian Company Number)
Company constitution
Bank Account opening kit
Officeholders' consent
Consent to act as Public Officer
Directors minutes
Application for shares
Share certificates
Shareholder and officeholder registers
Statutory registers as required
Journals
printing, binding, and delivery options available
---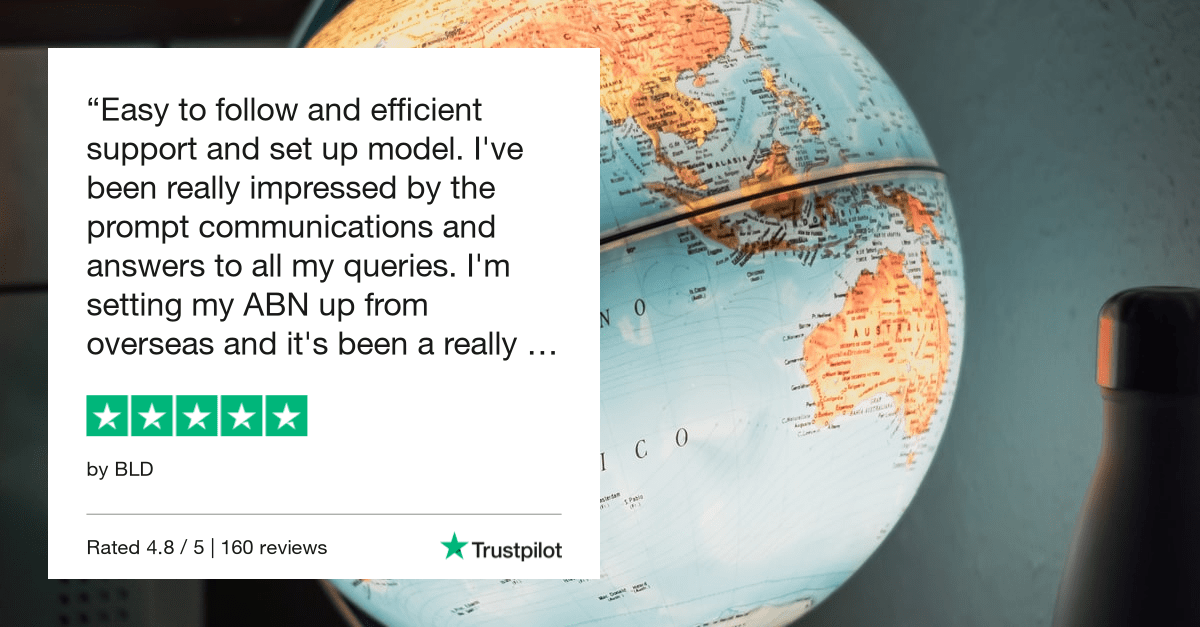 ---
Check Name Availability